First conceptual reactor design is ready!
May 16, 2023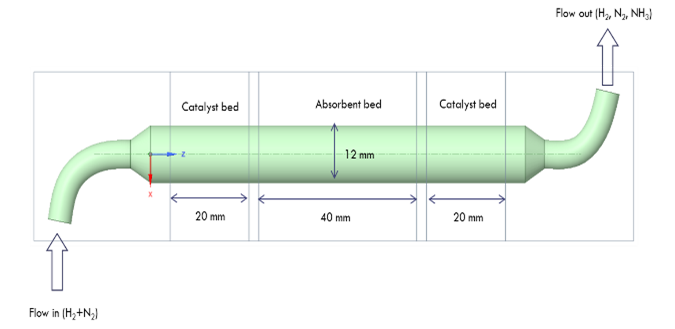 Figure: Primary design of the conceptual lab-scale unit for ammonia synthesis integrating absorption.
From December 2022 to today, Aalborg University has been constantly working on the conceptual reactor design with key contributions from other partners who are involved in WP2.
Alborg University has determined the primary dimensions of a lab-scale unit for ammonia synthesis and absorption based on the grant requirements, as shown in Figure 1. Using data from literature, they discussed the operation conditions for several rounds, conducting the promising ranges of temperature, pressure and flow rate. Moreover, they also developed the Computational Fluid Dynamics (CFD) model and one-dimensional model to simulate and virtually test this reactor, which assessed the performance of this reactor under different working conditions and provided strong references for the upcoming experimental work.
In the upcoming months, Aalborg University will finalise the dimensions of the reactor taking into account the practical requirements and build up the experimental rig in the lab at Eindhoven University of Technology. Then, the simulation work and experiments for testing the catalyst and sorbent materials developed by Johnson Matthey and Eindhoven University of Technology. The consortium will comprehensively investigate the conceptual idea of ammonia synthesis integrating absorption process in a lab-reactor level and collect meaningful tools and data for the pilot reactor design.