"Next generation of hydrogen storage solutions based on innovative materials".
9 November 2023
at 10:30
Online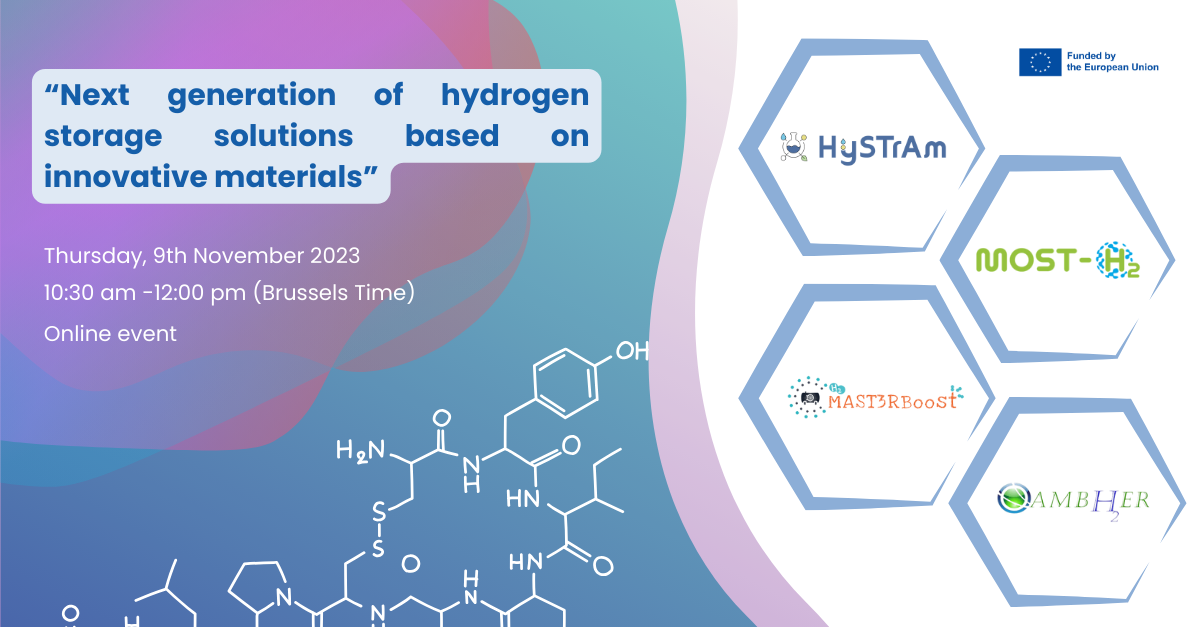 Join us to explore the forefront of European innovation that is shaping Hydrogen economy!
See the agenda here. 

Registration closed.
Europe is positioned to spearhead the global drive towards becoming the first net-zero continent by 2050. To attain this ambitious goal, the adoption of cutting-edge, emissions-free fuels to generate clean energy and advance sustainable transportation becomes imperative. Hydrogen, renowned for its high calorific value and environmentally friendly combustion, emerges, thus, as a frontrunner in the pursuit of carbon-neutral fuels.
Despite hydrogen's huge potential, its deployment and widespread adoption as a fuel faces a critical challenge: storage. Current methods involve high-pressure tanks or cryogenic temperatures, meaning significant cost, safety, and feasibility concerns. Some techniques as the use of Green ammonia produced through the Haber-Bosch process or Hydrogen adsorption onto ultraporous solid supports, offer a viable solution to this immense bottleneck by providing storage options that considerably ease the stringent conditions currently required for hydrogen storage.
Recognizing the transformative potential of a hydrogen economy for Europe's journey towards net-zero status and enhanced energy self-sufficiency, this webinar aims to explore innovative hydrogen storage technologies. The event, co-orgasnised by HySTrAm and MOST-H2 projects and  supported by Mast3rboost, and Ambher projects – all funded under the HORIZON-CL4-2021-RESILIENCE-01-17 call – will showcase an array of promising hydrogen storage technologies investigated by esteemed research institutions and industry leaders across Europe.
Embark on an extraordinary journey with us! Explore the forefront of innovation, engage in conversations about industry challenges and solutions, and gain a deep understanding of the evolving European regulatory environment that is shaping the hydrogen economy.
Is your organization at the forefront of ultraporous materials for hydrogen storage? Is hydrogen critical in your industry's future endeavors? Are you captivated by the advancements in green ammonia technology? Are you in pursuit of cutting-edge energy storage solutions featuring hydrogen?
If you answered yes to any of these, secure your spot today and join us for an enlightening webinar experience. Register now to be part of the conversation!
MEET THE SPEAKERS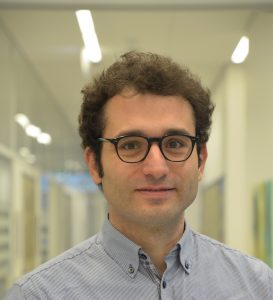 Vincenzo Liso, Leader of the "Fuel Cell Systems Research Programme" at AAU Energy – Aalborg University, and Coordinator of the HySTrAm project
Associate Professor Vincenzo Liso is the leader of the "Fuel Cell Systems Research Programme" at AAU Energy – Aalborg University. He comes with a background of modelling the electrochemical energy systems.  Vincenzo is originally from Italy where he completed his Masters of Engineering at the University of Perugia. In 2012 he earned a PhD in fuel cell systems from Aalborg University. His specialties are the  design and optimization of thermal energy systems. Recent  research has focused on the development hydrogen technologies including fuel cells, electrolyzers and synthetic fuels such as ammonia and methanol.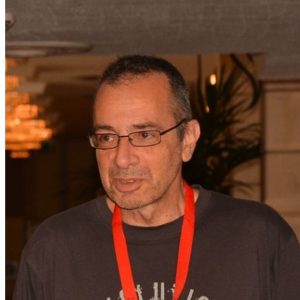 Theodore Steriotis, Research Director at Institute of Nanoscience and Nanotechnology, National Center for Scientific Research "Demokritos", Athens (Greece). Coordinator of the MOST-H2 project
Theodore Steriotis holds a bachelor and a PhD degree in Chemistry from the National & Kapodistrian University of Athens and is the Head of the Membranes and Materials for Environmental Separations Laboratory. His research focuses on the development and characterization of porous materials, membranes and nanocomposites for environmental, energy and health applications with strong emphasis on hydrogen storage materials and processes.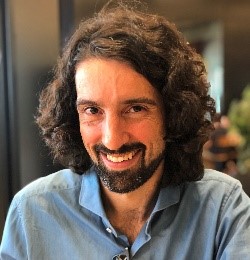 Carlos Sanchís Bermúdez, Head of Innovation at Envirohemp SL, and coordinator of the Mast3rboost project
Carlos has a PhD in Materials Science by the University of Alicante. He has been Head of Innovation at Envirohemp since 2014, taking part in 6 European projects. He has been responsible of product development and scale-up in all of them. Thanks to them he could work on a number of green applications such as energy storage, VOC abatement and regeneration of spent adsorbents. His core area of expertise is the production of activated carbons and its regeneration.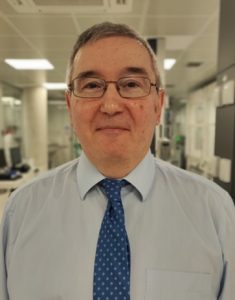 José-Luis Viviente, Senior research and project manager at TECNALIA, and Coordinator of the AMBHER project
Jose Luis Viviente holds a Doctor Degree in Physics from the University of Zaragoza, Spain (1989). He joined INASMET (actually TECNALIA) in 1989 being nowadays in the "Membrane Technology and Process Intensification Group" at the "Hydrogen, Materials & Processes Area" of the "Energy, Climate and Urban Transition Unit" of TECNALIA. From October 2002 to September 2006 (FP6) he joined the European Commission as Seconded National Expert in the Nanosciences and Nanotechnologies Unit in the Research Directorate-General. He has more than 39 years of experience in managing and/or collaborating on National, European and international RTD projects in materials sciences, mainly in the field of Surface Engineering. Main market segments: aeronautical, mechanical, automotive, biomedical, energy and environment.